I don't know about you, but there is a continual struggle going on between my brain and my body. Some days it goes better than others, but I've found that the mind is the manipulative one and the body is the enforcer. This struggle can go on whether I'm walking by the plate of chocolate chip cookies at work, or trying to get through a ton of burpees during a workout. My mind starts in with the rationalization for why it would be okay to eat a cookie or rest between the set of burpees. The mind is no dummy; it knows all the right things to say: "What's one cookie??? You deserve it!" or how about "Burpees are HARD, you've already done soooo many…you should just take a quick breather!"
I have a very well-honed skill to talk myself into our out of just about anything once things get a little bit hairy. What's the deal with that? I say I want to work out hard and eat better, yet I have this uncanny ability to cheat myself. For some reason, I always think of swimming when this mental/physical struggle begins. There I was…13 years old and a competitive swimmer. I wasn't great, mind you, but I swam my ass off every day and wish I could swim like that now! So, I used to stop in the middle of really long swims, like when we'd do a 1,000 yard warmup (40 laps) I'd have to stop a couple of times to rest before finishing. On one of these little rest stops, one of my coaches came over to me and said "You know, Annie, you're going to have to cross that pain threshold one of these days". Hmmm, that sounds scary, and well, painful!
What's the Pain Threshold???
So, what I found after listening to my coach was that the pain threshold is that place where your brain tells you to slow down, rest, and maybe even stop because things are getting uncomfortable. What happens next is where the magic happens…you allow your body to IGNORE your brain and damnit, you keep going. Guess what? Unicorns and magical rainbow sprinkles fall out of the sky and suddenly you realize that you're in the zone! Well, you may not cognitively realize it because you are now relying on the strength and wondrousness of your body and not listening to your brain! Your brain sits up top and drives…it's all mooshy and logical. It doesn't want things to be uncomfortable so it tries to convince you to do whatever it takes to maintain a level of comfort. What the brain tends to forget is that when it shuts up and lets your quads, your shoulders, and your gluts take over and kill a workout, it's going to get a really healthy shot of endorphins! The brain likes endorphins…just ask it!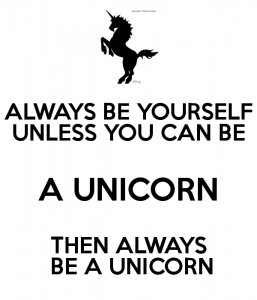 So, the trick is training your brain to trust your body, and better yet, for YOU to trust your body. Your physical abilities far exceed what you 'think' you are capable of. Your body was built to be strong, it likes to be strong! So in your next workout tell that brain to shut the hell up for a minute and get you some magical unicorn sprinkles, you'll be happy that you did, I promise!