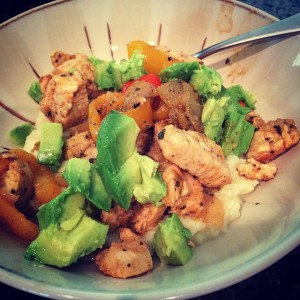 There's an interesting story of how this dish came to be! I came home from work (it happened to be Cinco de Mayo) and my husband asked what I was planning on for dinner. He doesn't usually ask that kind of thing, he's really not picky and trusts my judgement in the kitchen for the most part. I said…"not sure, I hadn't decided yet, why?" So he comes back with "I'm actually really hungry and craving something really good!". Hmmm, no pressure, right?
So, thinking what I had in the fridge, I figured I could pull off some sort of chicken over cauliflower thingy. I wanted to mash the cauliflower because I love the texture and the flavor, and so does he so I started by throwing the coarsely chopped trees in a saucepan covered with water on high. Remember, this needed to be a quick operation, I have a hungry husband and an 18-month old on my hands, no time to mess around!
I cut the chicken breasts up into bite-sized chunks and threw them in a saute pan with a little olive oil and chopped onion. As soon as it started to sizzle, I squeezed a lemon over all of it to give some liquid and some tang. I seasoned it all up really well with garlic salt, cumin, oregano, and fresh black pepper. Once it's all browned and bubbly I turned the heat down and let it simmer while I dealt with the cauliflower. I poured all the water out of the pan and used a fork to mash it up (it should be cooked to pretty tender). Next, season with a little garlic salt and add some milk and olive oil. If you want to make it really good, add a little bit of any kind of cheese; I used a little bit of grated cheddar. Now taste those mashed babies and tell me you're not sold on cauliflower!
Next, I found some mild salsa in the fridge that had fire roasted chiles and threw some of that into the chicken. Slice up some sweet peppers and throw them in at the end so they don't get too slimy and you're almost done! Taste the chicken for seasonings and toughness. If it's still a little tough, add more liquid and simmer a little longer. Now you're ready to plate it all up…put a good dollop of the cauliflower in the bottom of the bowl and then top with chicken mixture. Throw some chopped avocado and even some cilantro on top and dig in!!!