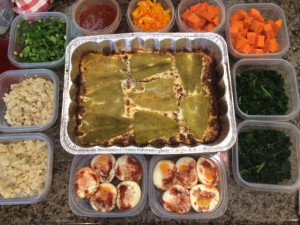 Day 1 of Operation "Get My Ass in Gear" is done! On the books…literally! Not sure if you saw this post I wrote recently about not being happy with myself, but I'm officially in the midst of doing something about it!
For me, it's all about what I eat, what I drink (or not drink), and how much I work out. Once all that gets sorted out, the rest seems to fall into place. To be completely honest with you, it's been a while since I've felt any semblance of balance between those elements.
My husband and I dubbed 2015 as "The Year of No Excuses" and he challenged me to finally DO something to get back to where I feel good about myself. So, being the competitive person that I am (or used to be) I silently resolved to shift my day-to-day behavior to reach some goals.
Here is my official plan:
– Make weekly CLEAN eating meal plans, shop, prep, and have it all ready and easily accessible for the week.
– Work out 5-6 times a week.
– Drink a gallon of water every day.
– No alcohol during the week, and moderation on weekends.
– Get more sleep.
So far, so good! I feel pretty good and not at all hungry or deprived. I can feel that inner fire starting to spark back up a little bit, which is an awesome feeling.
No more excuses!!!